In vivo microtomography of gastrulation
X-ray phase-contrast in vivo microtomography probes new aspects of Xenopus gastrulation
Julian Moosmann, Alexey Ershov, Venera Altapova, Tilo Baumbach, Maneeshi S. Prasad, Carole LaBonne, Xianghui Xiao, Jubin Kashef & Ralf Hofmann
Nature volume 497, pages 374–377 (16 May 2013).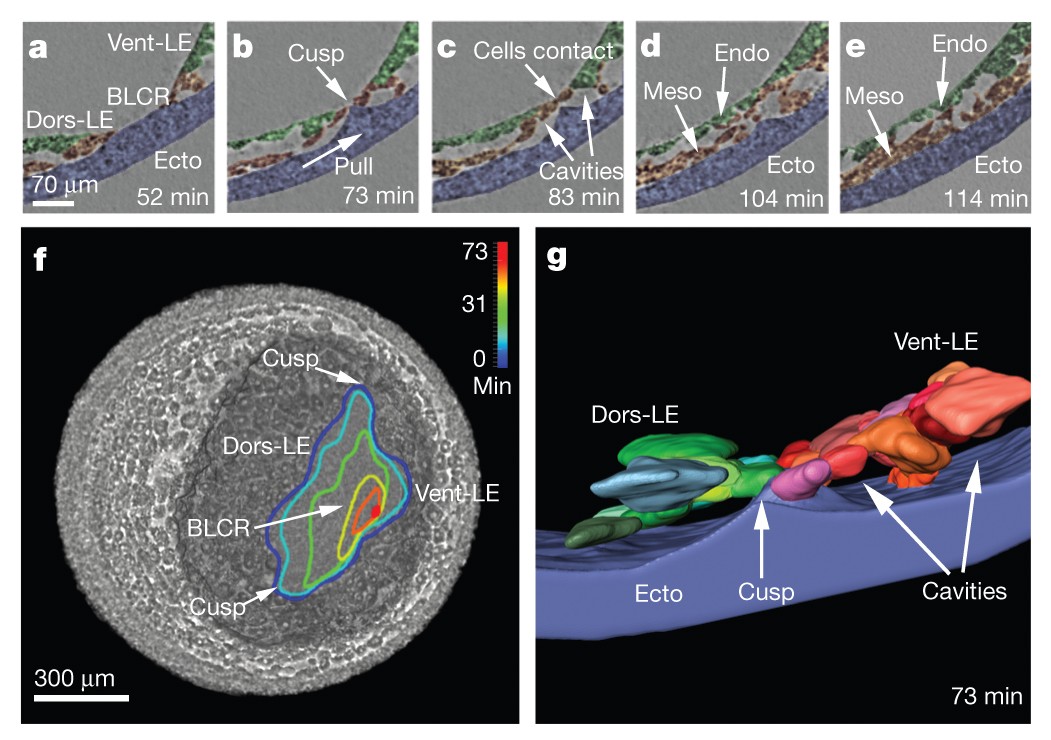 The study of gastrulation in Xenopus, the stage at which the embryo has formed three layers arranged around a central cavity, has been hampered by the lack of high-quality live-imaging methods useable on intact Xenopus embryos, which are opaque at early stages.
Julian Moosmann, Ralf Hofmann, Jubin Kashef & their colleagues (Karlsruhe Institute of Technology), Xianghui Xiao (Argonne National Laboratory, IL), Alexey Ershov (National Research Tomsk Polytechnic University) and Maneeshi Prasad & Carole LaBonne (Northwestern University, IL) developed a non-invasive in vivo time-lapse phase-contrast X-ray microtomography technique which allows the observation of gastrulation. By analysing individual cell trajectories, collective tissue motion and the evolution of morphological features, the authors visualize known gastrulation movements and reveal the formation of a transient ectodermal ridge structure not reported on previously.
Text adapted from Nature Editor's summary.
Figure 1 : Experimental set-up for propagation-based phase-contrast X-ray microtomography.
A quasi-parallel photon beam is generated from a synchrotron electron beam traversing the field of a bending magnet. After beam shaping and monochromatization, X-ray wave fronts propagate over a distance d (∼50 m) to impinge on the sample (living X. laevis embryo immersed in buffer solution and suspended by agarose) mounted on a rotation stage for tomographic data acquisition. The 2D detector, at a distance z = 62 cm behind the sample, consists of a scintillator, converting X-rays into visible light, followed by a mirror, a lens, and a complementary metal oxide semiconductor (CMOS) camera (effective pixel size Δx = 2.2 µm).
Click here to view article at Nature.
Click here to view article on Xenbase.
Time-lapse volumes (4D) of the processed data can be downloaded from Xenbase : ftp://xenbaseturbofrog.org/videos/moosmann_et_al_2013/
Click on image to play video on browser from the Nature website, or right-click and save link as mp4 video to play on your computer.
Adapted with permission from Macmillan Publishers Ltd: Moosmann et al. (2013). X-ray phase-contrast in vivo microtomography probes new aspects of Xenopus gastrulation. Screen captures of the videos are from the supplementary information. Nature: 497,374–377 (16 May 2013) doi:10.1038/nature12116 , copyright (2013).
Last Updated: 2019-09-01