XB-IMG-76704
Xenbase Image ID: 76704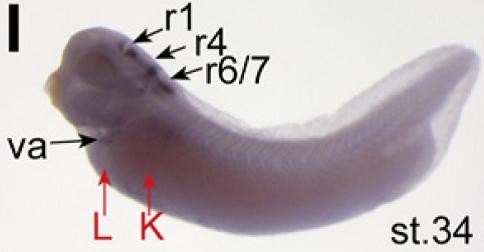 cyp26b1 ( cytochrome P450, family 26, subfamily B, polypeptide 1 ) gene expression in Xenopus laevis embryos, NF stage 34, as assayed by in situ hybridization, lateral view, anterior left, dorsal up.

Image published in: Lynch J et al. (2011)

Copyright © 2011. Image reproduced with permission of the Publisher, Elsevier B. V.


Gene
Synonyms
Species
Stage(s)
Tissue
cyp26b1.L
X. laevis
Throughout NF stage 33 and 34
hindbrain
rhombomere
rhombomere R4
rhombomere R6
ventral aorta
rhombomere R7


Image source: Published

Larger Image
Printer Friendly View




comment [+]
Return to previous page