XB-IMG-152168
Xenbase Image ID: 152168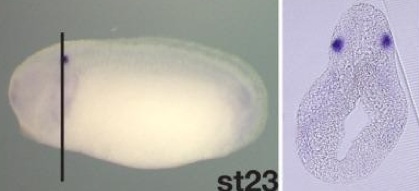 fgf10 (fibroblast growth factor 10) gene expression in Xenopus tropicalis embryo, assayed via in situ hybridization, NF stage 23, left: lateral view, anterior left, dorsal up. right: in cross section, through otic placode, dorsal up.

Image published in: Lea R et al. (2009)

Copyright © 2009. Image reproduced with permission of the Publisher, John Wiley & Sons.


| Gene | Synonyms | Species | Stage(s) | Tissue |
| --- | --- | --- | --- | --- |
| fgf10 | fgf-10 | X. tropicalis | Throughout NF stage 23 | otic vesicle |

Image source: Published

Larger Image
Printer Friendly View




comment [+]
Return to previous page