Eddy De Robertis and Nick Spitzer elected members of the National Academy of Science
Dr. Eddy De Robertis, professor of biological chemistry and Norman Sprague Professor, School of Medicine, University of California, Los Angeles and Howard Hughes Medical Institute investigator and Dr. Nicholas C. Spitzer, Destinguished Professor, Section of Neurobiology, Univeristy of California, San Diego were elected to membership to the National Academy of Science.
Edward De Robertis studies how long-range cell communication between the dorsal and ventral sides of the embryo occurs through the diffusion of growth factor antagonists. The discovery of Chordin, a BMP antagonist, provided a new paradigm in which facilitated diffusion of a morphogen takes place in the narrow extracellular space that separates the ectoderm from the endomesoderm. This gradient is further integrated with Wnt signaling through the sequestration of the enzyme GSK3 inside multivesicular endosomes.
Click here to read more about his resesarch on the Howard Hughes Medical Institute website.
Dr. De Robertis' Xenopus-related research articles are represented on Xenbase.
DeRobertis faculty page, UCLA.
DeRobertis laboratory homepage.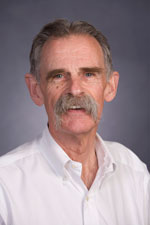 Nicholas Spitzer discovered that spontaneous transient elevations of intracellular calcium, generated by ion channels and receptors, control several aspects of differentiation during an early period in embryonic development. His work is aimed at understanding the roles of electrical activity in assembly of the nervous system, by analyzing the effects of calcium transients on neuronal differentiation and determining the molecular mechanisms by which they exert these effects.
Specification of neurotransmitters and selection of transmitter receptors are processes that depend on patterned spontaneous embryonic calcium-dependent electrical activity. Dr. Spitzer investigates the triggers of this spontaneous activity to understand its origins. His laboratory is studying activity-dependent regulation of expression of serotonin and dopamine in the embryonic brain, because these transmitters have broad impact on cognitive states and on behavior. He has begun analyzing the signaling mechanisms mediating activity-dependent transmitter specification, generating transgenic lines expressing fluorescent reporters of neurotransmitter synthesis to enable mutant screens. His team is determining the extent to which there is environmental regulation of activity-dependent differentiation at early stages of development, revealing a partnership of electrical activity and genetic programs in the assembly of the nervous system.
Dr. Spitzer's Xenopus-related research articles are represented on Xenbase.
Spitzer faculty page, UCSD.
Spitzer laboratory homepage.
Last Updated: 2013-12-17